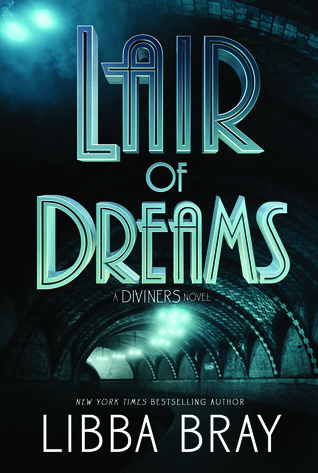 Author:
Libba Bray
Language
: English
Page count:
616 (Kindle edition)
Publication date:
25th August,
2015
Original title:
Lair of Dreams (book #2 in Diviners series)
My rating
:
Piano-playing Henry DuBois and Chinatown resident Ling Chan are two Diviners struggling to keep their powers a secret—for they can walk in dreams. And while Evie is living the high life, victims of a mysterious sleeping sickness are turning up across New York City.

As Henry searches for a lost love and Ling strives to succeed in a world that shuns her, a malevolent force infects their dreams. And at the edges of it all lurks a man in a stovepipe hat who has plans that extend farther than anyone can guess…As the sickness spreads, can the Diviners descend into the dreamworld to save the city?
Where do I start with this book?? It evoked various emotions, and I even cried towards the end of it. It was funny at times, super creepy and also very sad -- three birds with one stone. What I loved the most about my reading experience is the fact that every single character was
likeable. Of course, I wasn't always satisfied with most of their decisions but, in all, they were all very likeable, even though my favourites ended up being Ling Chan and Henry DuBois (both of whom the story was for the most part centred around in this book).
Setting
Lair of Dreams, like the first book, is set in New York during the 1920s and, at this point in time the laws aren't very accommodating towards foreigners, especially not the Chinese. The story follows a set of teens with Diviner abilities (dream walking, object reading, healing, you name it), but puts Henry DuBois and Ling Chan at the very centre when it comes to solving a 'Sleeping Sickness' --
a never ending state of sleep paralysis where the subject becomes a victim of endless dreaming --
that has broken out in the streets of New York. It's also causing the authorities to fear it's a disease brought in by foreigners, the Chinese in particular.
Story
Henry DuBois and Ling Chan are dream walkers, meaning they've been gifted with the ability to enter people's dreams, specifically to find answers for different questions. It is in the dreamworld that they first encounter one another and discover that they aren't the only ones who can enter people's dreams. When Chan's friend George Huang is taken by the 'Sleeping Sickness', she becomes more determined to find out what the root cause of the sickness is and how to banish it.
Meanwhile, DuBois is faced with his own worries as the songs he writes continue to get rejected by musical directors. But, after meeting Chan, he starts to focus on trying to find his lost lover, Louis, through the dream world, and pleads with Chan to help him. Of course his dream walking is taking its toll on his waking life and causes a rift in his relationship with his closest friend, Theta, who is concerned about his constant lateness to dance rehearsals (seeing as he is the piano man). But the closer they get to finding Louis and the truth about the sleeping sickness, the riskier things become.
I don't know what ingredients Bray put together in this book, but it was absolutely amazing!!! I am almost lost for words. The story had me from the very first page to the last and I feel it was twice as good as the first book, even though I really enjoyed the first book. Looking to be creeped out? Looking for excitement and a fast paced ride? Friendship? Humour? This is just the book for you! It had all those ingredients and more. I really like how the story was put together, with just the right amount of balance to make it work.
The writing was mind-blowing, especially the emotional parts of the book, and it was just like watching a movie. Even though the story takes place in the 20s, I could totally see it being set in modern times. It kind of felt like I was there, among the characters, and the descriptions had me picturing being at the centre of of it all, right in the heart of New York.
If a book has you super excited for the next book, an author has really done it! Congratulations Bray, you've succeeded in outdoing yourself! I'll keep my expectations low, of course, as I wouldn't want to set them too high. But this is the first 5 stars I've given a book in a long time. Since it got me super interested in the subject of dream walking, I might end up picking up Wake by Lisa McMann sometime in the future. I also recently borrowed a copy of Bone Season by Samantha Shannon. I don't normally read paranormal fantasy books as they creep me out, but having enjoyed 'The Diviners' so much I just couldn't wait for the second book to be released, which is why I purchased it on my Kindle. It's the first time I've ever started and finished a book on my Kindle device and, I must say, I could get used to the experienced. It wasn't bad at all. As a result, I purchased a couple more books on my Kindle that I'm excited about reading in the future.